February 10, 2013
Skill Vs Talent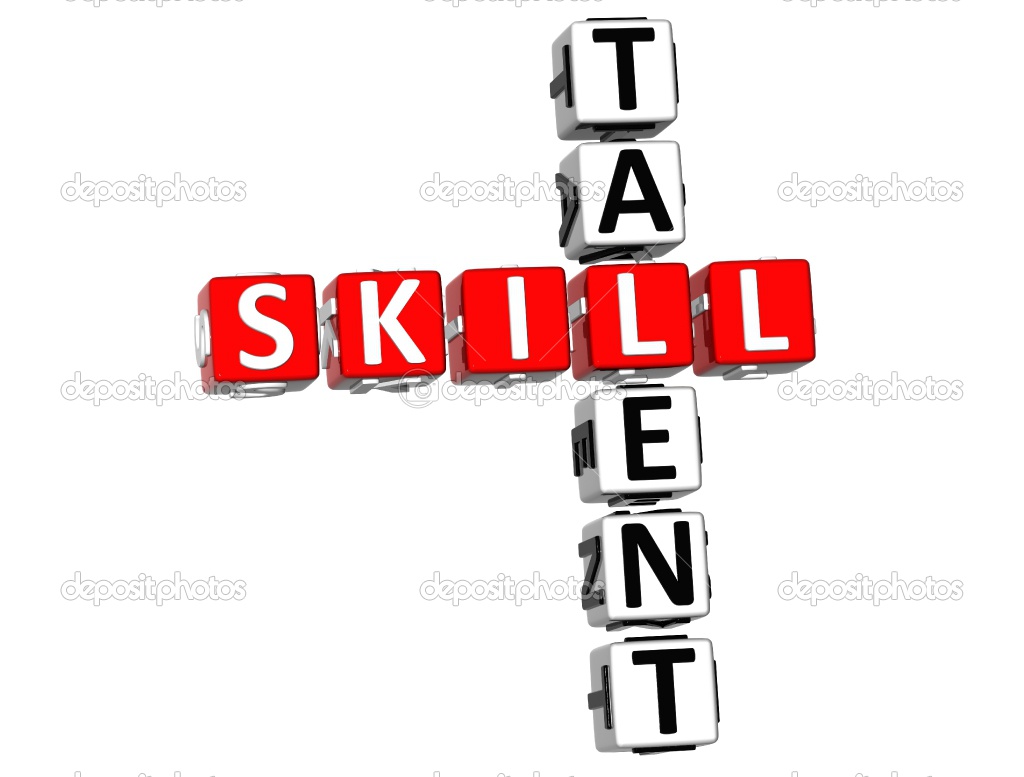 While I was coaching PE the other day at a Middle School, I observed one of the most talented kids I had ever seen.  This kid had the athleticism of Deion Sanders, the speed of Usain Bolt, the leadership of Peyton Manning, the poise of Kevin Durant, the elusiveness of Reggie Bush, and the determination of Kobe Bryant.  All wrapped up in one, this sounds like the recipe for the ultimate athlete.  I was quite intrigued with this young man and was compelled to tell him that he has God-given ability unparalleled by anyone I knew.  To put it frank…this kid epitomized talent.  This got me thinking about talents versus skills.  People often confuse talent for skill.  Though both may complement one another,  the fact is that both have two completely different meanings.
Talent is something that someone is inherently born with.  Whatever their talent may be, it is something that comes easy to them.  It is something that is effortless and they do not have to try hard at.  The dictionary describes talent as a "natural aptitude".  The key word in that definition; natural.  So the consensus is that talent is natural.  Mariah Carey is a talented singer.  Michael Jackson was a talented entertainer.  Lebron James is a talented basketball player.  Kanye West is a talented rapper.  Billy Joel is a talented musician.  Berry Gordy is a talented producer.  Eddie Murphy is a talented comedian.  Kim Kardashian is a talented…ummm…ummm…I'll get back to you on that one.   The fact of the matter is that the aforementioned icons have (or had) distinct, natural, God-given abilities that they performed better than most.  You can't give Kanye a basketball and expect him to play like Lebron.  And you can't give Lebron a microphone and expect him to perform like Kanye. (On that note, aren't we happy that Allen Iverson, Shaq, and Ron Artest put the mic down for good).  We were all born with unique gifts and it is up to us to acknowledge them, embrace them, and utilize them.  But in order to maximize your gifts, you must acquire the necessary skills.
Skill is something that you develop over a period of time through hard work and tenacity.  You acquire skills through reading, learning, practice, and researching.  The dictionary defines skill as "proficiency, facility, or dexterity that is acquired or developed through training or experience".  No where in the definition for skill did I see the word "natural".   The consensus is that skill is developed through training.  When you look at professions that require intense skills such as lawyers, doctors, surgeons, brokers, law enforcement, etc, you realize that those careers are attributed more to skill versus talent. You would never call a doctor a "talented" physician.  You would refer to him/her as a highly  "skilled" physician.  That physician had to go through extensive education, training, and practice to acquire the necessary skills to be proficient at the job.
It's amazing to see what talents may lay in certain people.  I once had a friend who was so talented at picking up women.  It was a natural gift that he had.  We could be anywhere; gas station, grocery store, library, funeral (yes I said it), church, etc, it did not matter.  He had a true gift for "macking" and regardless of where we were, he always produced.   I was truly fascinated at his ability to pick up on women.  For me, I was kind of the opposite.  Naturally, I wasn't really born a Casanova.  Throughout my years of trials and rejections, I observed and acquired skills.  I wouldn't say that I'm immaculate now, but believe me, I'm a whole lot better than before.
It is important to be honest with your talents too.  If you want to be a world record holder in high jump and you're 25 and stand at 4'10, you may want to reconsider that.  Likewise if you have aspirations to be the greatest dancer in the world and you have  rhythm like Napoleon Dynamite, you may want to reconsider that.  If you want to sing like Luther and your vocal chords are on the same level as William Hung, you may want to reconsider that.  If you want to be a runway model and you are often mistaken for Flava Flav, you may want to reconsider that.  Be true to yourself at what your talents are and hone them.
Whether you talent is athletics, entertainment, technology, politics, or picking up women, it is important to nourish it with skills.  When an individual combines their talent with skills, that is where ultimate potential is reached.  You can have all the talent in the world but if you do not hone it and become skilled than it just goes to waste.  Just ask JaMarcus Russell, Matt Leinart, Lindsay Lohan, Kwame Brown, and Dwayne Jarrett.  On the other hand, skill alone is not enough if you do not have the talent.  Just ask Luke Walton.  The reason that people like Mariah, MJ, Lebron, and Kanye have achieved great success is because these individuals were not only ridiculously talented, but they had sickening work ethics that produced skills; that is where greatness is reached.  Everyone is capable of greatness.