November 11, 2014
Mark Sanchez: The Sequel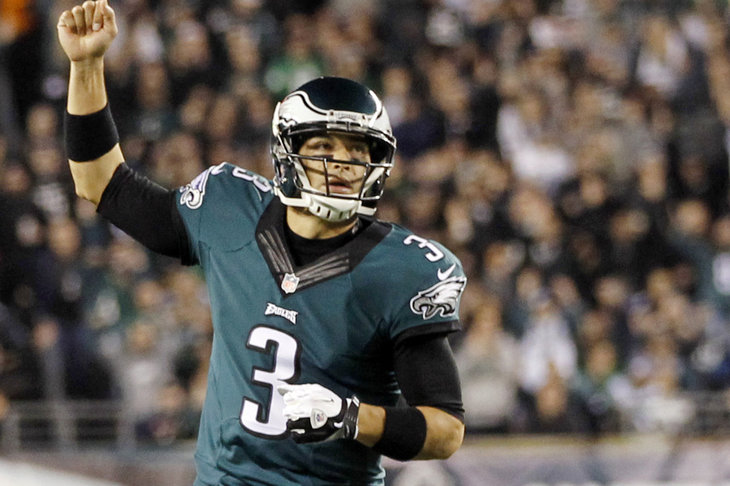 (Photo courtesy of sbnation.com)
Exactly two years ago, Philadelphia Eagles' Quarterback Mark Sanchez was the laughing stock of the NFL. He was turnover prone, an inaccurate passer, and (of course) there was the infamous "butt fumble". It wasn't clear whether he was auditioning for a role in The Three Stooges, or if he was just a discombobulated NFL QB enduring the worst stretch of his career. Whatever it was, it was UGLY.
Sanchez was given an unceremonious discharge from the Jets, and subsequently found a home in the city of brotherly love. Not much was expected of him, as he only signed a one year deal. It wasn't like he was going to compete for the starting spot; Nick Foles is the franchise QB of the future. If anything, he was competing for a roster spot and to be the backup QB. Knowing that this could potentially be the end of his career, Sanchez knew he had everything to prove. He was fighting to reinvent himself, and change that identity of the underwhelming QB he once was.
Sanchez would get his chance after Nick Foles left the game last week with a collarbone injury. Sanchez came in, threw a couple of touchdown passes, and lead the Eagles to victory.
Last night on the national stage, Sanchez would get his first start in nearly two years. And he did not disappoint. He proved why he is deserving of a second chance in the NFL, as his Eagles dismantled the Carolina Panthers on Monday Night Football. Though he got immense help from the Eagles defense and special plays, there's no doubt that he was the leader of this explosion. He looked sharp on most of his passes, poised while in the pocket, and MOST IMPORTANTLY, his confidence was back!
He seems like he fully grasps Chip Kelly's uptempo offense. And not only did he grasp it, but he ran it efficiently. What I saw last night was a QB who had great command and understanding of his offense.
Having suffered one of the most humiliating and public downfalls in recent quarterback history while playing for the Jets, Sanchez no longer looked reminiscence of the old Sanchez. This is a man who's been rejuvenated and has made massive leaps in the maturation process. While its too early to determine if Sanchez deserves to be an NFL starter, its obvious that he at least deserves a shot at it. Time will only tell if he can remain consistent and continue to bring in victories.
In the meantime, its exciting to watch Sanchez 2.0.